DELUXE Chocolate Fountains, Always the Hit of Any Party!
Rich and Creamy Chocolate!!!
Published Friday, April 17, 2015 4:00 pm
by
Dan Malone
DELUXE CHOCOLATE FOUNTAINS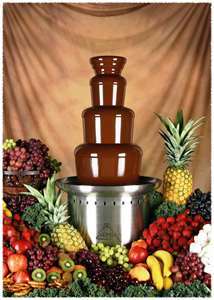 All Sizes of Chocolate Fountains to fit your party. Belgium Chocolate available in milk, dark, white, tints, and custom flavors.
$5.00 per person includes the Chocolate Fountain, Chocolate, dipping items.....
Do you have a guest count over 200? Our Chocolate Fountains have NO rental fees. All you have to do is purchase the $5.00 dipping package with a $150.00 attendant fee and you are the hit of the party!
Make a lasting impression on your guests and a sensational ending to a wonderful dinner with a beautiful chocolate fountain! Whether you select Milk, Dark or White chocolate or all three, your guests will have fun dipping strawberries, marshmallows, bananas, Oreos, pretzels and more into our creamy Belgian chocolate. From small intimate gatherings to large corporate functions Chocolate Fountain Sensations will take care of all your needs!
All Disposables, Greenery and Linen for Chocolate Fountain Table included.
Call Malone's Catering today! 317-484-4600
Show Other Stories